Google My Business Secretly Rolls Out "Services"
You can now add a categorized list of your services on your Google My Business listing (This may still be rolling out to some people or it may be a test).
I was checking out the new option to add a description in your GMB listing when I noticed an area called "Services". I've never seen this before and it's my job to keep up on "all the things" and I thought to myself did this update slip by me. After quickly dismissing such nonsense I started doing some research and checking Google's documentation on editing your Google listing and all the features they have. I saw that while the new "Description" feature is listed, "Menu" is listed, "Attributes" are listed, which are all newer features that GMB has rolled out "Services" was not listed anywhere.
Here is what the GMB "Services" section looks like:
Once you click on the "Add or edit items" it opens up this page.
As you can see, you can also add "Sections" for your services. It gives you the ability to enter the service/item name, the price as well as a description.
I've updated the services and it will take a few days until it gets approved. I will add more at that point.
I reached out to Barry Schwartz and David Mihm just to check that I wasn't going crazy.
@rustybrick @davidmihm Did GMB sneak "Services" in with this description update on GMB or did I just miss this update? This was news to me and it isn't listed on the list of areas you can edit here – https://t.co/joPlKaAVUO pic.twitter.com/W9Y6nXTVID

— Kevin Getch (@KevinGetch) March 28, 2018
Alright, so I've got a few more updates for you.
I reached out to the SEO community to get some feedback and my friend Tony Svoboda replied:
This is definitely a newer feature and it hasn't rolled out to everyone yet. Mike Blumenthal originally wrote a post in 2017 about GMB rolling out product & service menu links to the knowledge panel, so I asked him if this was the same as that and he confirmed that it is not. See tweet below. It looks like previously they had a field to add links to your product & service menus, but in this case they are having you input the service and description right within GMB.
Yes. that is new

— Mike Blumenthal (@mblumenthal) March 30, 2018
It looks like Andy Simpson noticed this new feature a few days before me. See tweet below.
Why does the new GMB services option appear as 'Menu' when viewed on mobile? Not all services are food related! #LocalSEO @GoogleMyBiz@deegs20 @JoyanneHawkins @mblumenthal pic.twitter.com/bqhsK1PhCL

— Andy Simpson ? (@ndyjsimpson) March 23, 2018
The updates I made to the services on Webfor's GMB listing went live in less than a day. As Andy pointed out above it shows up under "Menu" on your GMB profile. This is really strange and doesn't really make sense. Hopefully Google will changes this to "Services" soon. Something else that I noticed was that the "Services" section (under Menu) only appears on the mobile GMB listing currently. It's not appearing on any desktop searches that I've seen.
Here are some screenshots of what it looks like on mobile: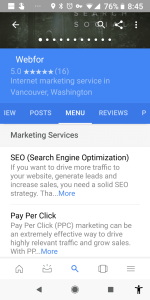 Gotta run now but will update with some feedback from the community.