The Moz Gang Strikes Again with MozCon 2017
MozCon was great last year, and this post comes many months after the 2017 shindig in Seattle. Really good conferences can lead to really great conversations if you only take the chance to have them and that I did! Not only was it entertaining and educational, it was loaded with more feels too. Whether it was Will digressing about his relationship with Rand or the Wizard of Moz's position on sexual harassment.
…and I think that's what I love about this conference. Yeah, it's planned out, everything is super fancy and official, but it's still very grounded and very human and I think that's what will really bring people back for years to come.
The schedule was well-balanced, though I missed the animated projections on the walls, the light shows, and the indie-game. I saw a lot of people tweeting and talking about the game specifically for several days. The food was solid. There were breakfast sausage and bacon. 'Nuff said.
One of my unique experiences was finally trying out the gender-neutral bathroom, which I was nervous about at first. The experience was, you know, the same experience as any other time you gotta use a public restroom, but my head was splitting at the "forced change" of it all. It was definitely a trip to see opposing genders standing next to each other washing their hands next to another person doing their makeup.
I can hear my mom saying right now, "you don't know unless you try!"
If you have the opportunity to attend something so cool, then break down some barriers and get outside your comfort zone because you never know what you might experience, who you might meet, etc.
The notes below were taken during the presentation and those that attended should have access to all of the recorded talks. If I got anyone's Twitter handle or name wrong, please let me know in the comments section.
(bolded lines are things I thought were cool, funny or important)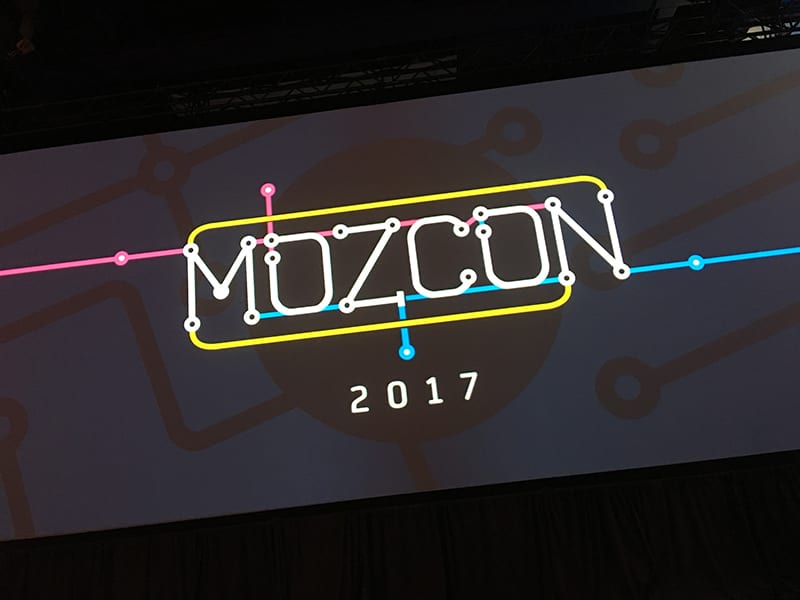 Rand Fishkin (@randfish)
Job listings and reservations in Google.

Not penalizing link spam, but mostly start ignoring it.

Alexa has a huge future ahead.

Google lost 2.7 billion in the anti-trust case over search results.

Google was the second largest donor to Republicans and Democrats over the last few years.

Google search is 58%. Google images is 28%,

Search trending 15% over last year. Search is still growing even in mature markets.

Celebrating 10 years of MozCon.

Got an email from a woman last year and attended an event he spoke at. Was assaulted by a speaker in our field. She told the organizers about the event and they'll take care of it. Instead, they invited the speaker back to keynote another event.
Lisa Myers (@LisaDMyers)
She is Norwegian. Sounds like a drunk Irish person. (Lol, her comment)

Dev, design, outreach, creative and technical SEO.

Print your tweet on a toaster.

Have to come up with a lot of shit ideas, to find the great ideas. There is a lot of pressure to be original.

Innovative – Take something and make it better.

Guardians of the Galaxy was the deadliest movie of all time. Most respected newspapers in the UK. Then they got a tweet from James Gunn.

Over-invest in building formats.

Building interesting data-driven content can drive many links to your website. This is how you get big links, getting very active in the community.

It's not about the number of emails you're sending and how much is in there. Sent 267 emails and got 23 links. They are using email campaigns to get links.

Just looking at a CV, you can miss the talent. How they think is really what matters.

Best way to get more outreach is to allow people to be who they are.

There is no one way of doing things.

Let people find their own way of doing things. Create freedom in how someone works to get results. Find your own way.
Oli Gardner (@oligardner)
Data driven design.

67% of marketers said they don't have enough data to do their job effectively.

We do a lot of trendy things.

81% designers feel they have to start their design work before they receive the copy.

98% of marketers said they are responsible to give feedback. 87% of marketers feel they are qualified to give feedback.

Design == empathy, understanding visitors, customers and everyone on the team. It's not about just taking about what you see other people doing and implementing it.
Design trends are coming together to create this problem: theme designers are to blame.

Pinot in 2004, sneaking drinks in. A guy in the theater yells "I can smell the wine!"

"It only takes one tree to make a 1,000 matches"…"one match to burn 1000 trees".

Data-Drive Design (3D) Process. Consult the 3D playbook.

Choose an object of interest.

Isolate the data sources you need.

Sources w/data.

Collect the data and share it. Getting aligned with what you're doing.

Make observations – print it out and do it by hand.

Design card mockups – sketch their own way to solve these problems. Present up front of each other. All can learn collectively.

Conversational Form – You enter chat messages.

Process

Marketers talking about designers…from a planet of superpowers. Enthusiastic and motivated. Full of ideas, even if they're bad.

Designers > Copywriters they're intelligent. Symbiotic organism and we die without them.
Joel Klettke (@joelklettke)
Standard Copy

Headline

Subheadline

Hero Image

Benefits

CTA

Social Proof

Every conversion is a conversation.

Questions

What is it

Who is it for

Why should I care

Ow does it work

Why trust you

What next

What was most important to you?

Connect with your audience and stop pretending to think you are them.

Inject emotion into your website headlines.
Daniel Russell (@dnlrussell)
Reddit is the biggest forum on the internet.

Best place to find content on the internet.

#8 most visited website.

274 million unique visitors in January 2017.
Subreddits are places where you can dig down further rmovies, rfood

R/oldpeopleonfacebook

Upvoting and downvoting inside of Reddit. Top content automatically rises in reddit. # of upvotes compared to downvotes over a certain period of time.

No spam and no vote manipulation. Real people are usually behind upvotes.

Become an active user on reddit.

Understand the environment and culture.

Look at the top content from reddit

Change toggle to "past month".

Top Content – looking at particular ideas.

An animated GIF made all the difference.

Hydraulic Press Channel – was on the front page for two weeks last year. People upvote it all the time.

Content should be diamond crushing.

Reddit is powerful.

67% male, 33% male. 19-29 range. 42% have a college degree. 18% have high school or less.

70% white and 81% liberal.

Master the search function.

Model and riff on top content ideas. Remember that reddit has limits.
Katie Cunningham (@kac4509)
Client is OSU Medical Center (102 locations).

Make sure you have goals setup as part of your campaigns.
Ian Luirie (@portentint)
Be a badger because they are efficient. They adapt.

Maidens can only approach unicorns.

Frolic is great, but work doesn't get done.

Got a structure, now find ideas. Find cool ideas.

Calendars don't work because of so many changes all the time.

There are no wrong ideas.

Content is not a democracy. It can't be because you don't have time.

Produce green circle content every week.

You have tons of ideas but never focus on achieving one of them.

Find popular threads in support forums. (Moodle)

You need to learn to use the language called markdown.

Use crowd images or animals. Freaking out chicken.

Save the original images on hand.

Grammarly. Read it backward one sentence at a time.

Always find ways to streamline.
(I made it to the board, thanks Ian!)
Justine Jordan (@meladorri)
Subject line like "20% off refuel today". The deals motto no longer works. Messages like "We Found a Better Deal" actually work.

You have to test.

Medium "how my company failed me".

Too many sales-focused emails. Too much focus on sales.

Subscriber needs vs business needs. The middle is the actual magic.

"Quora Digest"

Use "replies@"

Ask the 5 W's

Who are you sending to?

What do you want them to do?

When is it appropriate?

Where will the recipient read it.

Why should they care?

How are you going to measure success?

No plan. No purpose, then no email.
Purna Virji (@purnavirji)
Bots are a part of the engagement process.

Conversational process.

Chatbots can be used bypass everyone. Big or small.

Change from a buy now, to what do you need now.

Bing "Monsoon Seattle". They have an option for you to "chat" if you're using chat features.

Bots have the same issues bots have. Getting discovered, etc.

Plan for figuring out chat bot usage:

Identify goal

Brainstorm without limits.

Bring it to life.

Think about the platform, conversation, ton and voice for your chat bots.

aka.ms/purna_moz it's easier than you think.

The proof is in the pudding. View metrics to get results.
Phil Nottingham (@philnottingham)
We think that shoving information out to the world, that people will love it. We have this perspective because of TV.

Begging for some reality.

4k views and 21 shares.

In (cyber) space, nobody can hear you scream.

One minute of video is worth 1.8 million words. – Dr James

Having video is not a strategy. Optimizing for the new wave of social platforms.

YouTube used to be the only game in town. Used to be able to shove videos on to YouTube and people will see it.

Video

Twitter

Snapchat

Facebook

Instagram

Vimeo

FB Live

LinkedIn

All social networks are now video platforms.

Where should I host my video? No, build the platform first.

Wistia video example, reactions continue to be poor. Maybe a slow-motion video of a dog would work. Nope, still didn't work.

Feb 2016 one of the guys in the office decided to try and make pancakes.

We want some kind of hit to make things stand out.

We're bored and we're mobile, that's the context in which we're exploring video.

Bored, mobile, muted and time-bound.

Music is top viewed on YouTube.

Need to learn and adapt strategies. Then execute.

Snacks – Creating something stackable is fun.

Skip Ad – is the thumb scrolling through FB.

FB views are 3 seconds.

YouTube views are 30 seconds.

The number of impressions is not the number of people who are impressed.

Need to measure how people are engaged.

Custom Audiences

Watched more than 75%

Looks like existing likes.

Looks like existing customers.

Location

Spend doesn't = activity.

If you can get the content right on FB and the spend can go a long way.

Buy Links

Make a short video advertising your content.

Download the emails of your link prospects.

Setup a custom audience with just those emails.

Setup a campaign promoting the video to just your prospects.

When to use Live Video:

When you're doing exclusive events.

Interesting in a manufacturing process.

Exciting physical spaces.

Iconoclastic people.

Instagram/Snap

Stories (disappear).

Snap (post/link content)

TL:DW

Follow a process of too long, didn't watch.

Instagram

Use lights, tripods, and stabilizers.

Short-lived content.

An audience is not sure what they are doing to get.

Make sure what you're doing is entertaining and surprising.

Posted video on Twitter.

LinkedIn

How much should we be spending on video production?

Start by doing something small.

DJI Osmo $300

Ricoh DS

JSLD, deliver schema markup and Soapbox in Google search.

There are no boring niches, only boring companies. Sexy Wistia service is not that cool, but you need perspective.
Will Reynolds (@wilreynolds)
Rand is such a good man. Built a better company.

Held my son on the plane while he was making slide decks.

My company is better because he knows Rand.

There are 140 people at seer because Rand made him better.

I will give one tear for that mother fucker. Thanks to the moms.
Be the content you wish you found.

How painful it is to work on something for three years. Ranking doesn't bring dollars.

Small biz vs mid-marketing 78% are non-employer and 52% are home-based.

Google knocks Seer out of top results for SEO terms. Lost rankings and lost traffic, but growing like crazy.

Thanks to better than ranks.

Finding content that solves the problem. They built the industry 10x links, 10x content, 10x brand. Hire/fire search agencies constantly. We believe your rankings are getting suppressed because you are the wrong answer. You are a disappointment.

The computers learned what disappointment looked like. The web is a disappointing place.

People ranking for pricing, and then doesn't show anything about pricing on the page.

You can't automate actually giving a fuck, but you can automate.

23.2% had pricing pages. 52% ranked a demo or contact page for brand + pricing query.

8 to 8:30AM in the morning and sold milkshakes in the morning. Milkshakes competed with doughnuts and stuff.

Personas aren't people. Real user testing where a lady suggested, "I like it for these reasons.

Don't like that 4-minute video at the top. Frustrated. You do enough back buttons and you get suppressed.

Great clients enable great agencies.

I hate viral stuff.

Getstat.com

you get some great KW information.

Look at SQ reports with conversions. Uncover the truth. Do a word cloud.

Feedcheck.com

for e-commerce.

bit.ly/seergram

online NGram.

Actually talking with people. Getting on the phone and asking people how to improve content.

Choose Guidance over Guides.

Googles not getting dumber.
Rob Bucci (@statrob)
Intent beats identity.

KWR is dependent on more art than science.

Way to measure a brand in the customer's journey.

Immediacy beats more everything.

Image are great UX for unrefined queries.

News results suffer from an irrelevancy is a problem.

YouTube bias.

New – images.

Compare – videos.

Best – looking for something that will help them on their path. It is not a buying term.

Which kind of categories rank.

Create the right UX by already doing what works.

One of the worst words out there is "mental toughness".

Social media users are 2.5x more likely to be depressed.

Needed to connect with someone to share the empathy.
Mathew Edgar (@elementivesltns)
Using UX tests to drive SEO.

Event tracking in GA.

Sometimes people don't spend much time on a website.

What happens after they click a link on the website?

Looking at time on page vs scroll and CTA interaction.

Good UX can be measured.
Jayna Grassel (@jaynagrassel)
1:1 redirects are critical, but so is the process.

120,000 redirects submitted.

3 months to improve ranking.
Kane Jameson
Paid media and paid social at the top of the funnel.

1k visits x $10 cpc x 10% conversion = 100 sales.
Tara Nicholle Nelson (@taranicholle)
It's PR, not ER.

Limiting factor for businesses is that you can't buy growth.

Rethink what you're selling and make the changes you need to create impact.

Review quote about advertisements.

Sharing thoughts about engagement.

Capture the online and offline behavior.

Understand the natural language of your users.
Matthew Barby (@mathewbarby)
Google didn't "kill" guest posting, we did.

S.O.N.D.L..G – Shit, numbers are looking bad.

S.O.N.L.G – Shit numbers are looking good.

What happens if organic search tanks?

Why would you keep doubling/tripling things that don't work?

We create a ton of content all the time.

1000 paying customers per month. 40k MRR each month.

Alexa skills aren't created yet.
Joanna Lord (@joannalord)
Ownership has changed, who owns growth at the company?

Growth

Product

Marketing

Engineering

Data

Product & Marketing

Who you need to hire has changed.

T-Shaped marketer – skills that fuel growth.

Product / Marketing

Much better skillset

How to organize for growth:

Invest in the views that matter.

The up and to the right graph is useless.

Full funnel views.

How you organize will either fuel or kill growth.

CAC, Churn and Burn.

Whats the one thing you do today, that will make everything better?

Until you hit the metric, don't move on.

Realize nothing is precious, the fastest growing companies in the world know this. This is not a product, process, feature or an audience. It's ruthless because they do what's best for the business.

Often the hardest, most complicated business decision is the exact one you need to make right now.

You do what the business needs, to make things happen.

Get ruthless on product prioritization. Revisit prices often and adjust for the business.
Fire the wrong people and hire the right ones.
Do yourself a favor and fire "so and so".

Do what's right for the business vs whats right for the team.

Get deep on things that make things stand out.

Stop building because someone says so.

Has to think about virality on a regular basis.

Evergreen testing to make your case.

The best brands in the world are investing in growth as an operational machine. They're hiring creative, resourceful, low ego people to make the change.
Dr. Peter Meyers (@dr_pete)
HTTPS your websites.

Projected that 2/3 websites will be https by the end of the year.

Chrome will start posting notifications about lead gen forms not being SSL.

"There was no trick. We just did it." It was dumb.

Trying to rank for something that has video and you don't, you're missing something.

Rank Brain is the scary one. One of the hundreds of signals that go on to the algorithm.

Snippets dominate mobile. Tripled since originally launched.

70% of snippets were text. Lists were next.

Voice search is intimidating:

How much blood do I have?
Cindy Krum (@suzzicks)
Mobile first break it down.

Do the rand dance.

Mobile means pretty much everything that's not a computer.

Could be a fridge.

A level of sequence and prioritization.

Voice first device footprint is taking off quite a bit. Chatbots are growing faster than apps ever did.

All things are getting linked up.

Drumming Song – yields a video of that song and other similar information.

"What does a cow sound like?"

JSON schema can be associated with:

Head of HTML

App associations files

PWA service workers

Datasets

MobileMoxie
Tara Reed (@TaraReed_)
Powerful brands have communities.

In 2010 Sephora launched an online community called beauty talks.

Spent 2.5 times longer on site.

Software tools to build community.

MemberFull and MemberSpace

WordPress plugin.

Get communities going.

Social First Community

ZenDesk community software.

Integrated with customer support.

Mighty Networks

Community-powered brands and engagement.

Web app, mobile app etc.

Your customers are finding communities with or without you.

Public vs private.

High tech vs low tech.

Social-first vs content first.

Communities should be gamified.
Heather Phyysioc (@heatherphysioc)
100's of creative awards.

12 employees in 3 years.

313 billion dollars will be content marketing by 2019

Client maturity about content, selling value, proving ROI. We have big content problems to solve for.

Not every department should own content.

Interviewed people about the content process. What does it look like as a discipline?

WE need to create content continuously.

Not everyone agrees on what content means.

Creative – Big burst campaign in one big short campaign to drive engagement.
Marketers – Relevant, Marketing, Right Traffic

Clicks don't mean shit, money talks. They always want to talk profit margin, market share.

This shit looks hard, it is hard.

Create your content process flywheel.

Not all budgets and clients are created equal.

Sourcing content is a make vs buy situation.

Define content and align colleagues and clients.

Build a flexible skeleton process with buy-in from across the shop.

Do the cost-benefit analysis to choose make buy for each client.
Britney Muller (@britneymuller)
Started an agency in 2012.

Didn't feel good about the work they've been doing. They decided to let their highest paying customers go.

Enough traffic to fill 12 Century Fields, a month. Her job was to bring all of this up, significantly.

Top 5 Moz Secrets

Website had 70,000 pages of indexed crap.

41% were community profile pages.

There are seasonal trends.

They looked at 20 point profiles and no-indexed them until they had 200 points.

Dropped indexed pages to 1500 and organic traffic increased.

Low converting and low traffic pages are not doing anything for you.

One regret that she has is making mistakes. The night after robots.txt was opened and URL parameters were not configured.
Check parameters bit.ly/url-parameters

SEOmatic plugin for Craft.

Self-referencing rel=canonical

Learn center pages went through the roof. 203% increase in organic page views from the previous period.

Providing more relevant articles, we're going to increase pages per session. Other posts are displayed as 4 blue links.

People will better understand SEO, by doing it.

MOZ SEO Masterclass

Learn by doing. There is more. Nothing replaces actual experience.
"How to Choose a Domain Name" and they have been tweaking the page to get a featured snippet. Typos have a huge impact on the success of featured snippets.

You can uncover more secrets, by trying to lose them. What tipped it to the point of losing it.

Removed "to sum up" and that lined was removed from featured snippets.

Top 5 Moz Secrets

Crappy pages, and clipping that down.

Unconfigured URL parameters.

Outdated CMS

Not optimizing for user journey

Not perfect SEO

Bonus: Break Stuff

Now, they have another 100k per month. That's adding another 1.4-century field.

Increased KW reach of 51% on SEMrush.

Every person at Moz got these results.
Etsy – SEO Experimentation for Big Time Results
Easy 1.8 million sellers.

Limited time, resources and an already full product roadmap.

Audit and presented to the team. I don't know what to do with that.

You give a recommendation, before and after and then get approval from managers.

A/B testing for SEO. There is a blog post that defines the experiment they tried.

Framework

Define – Hypothesis

Design – Determine Variables

Analyze – Define Results/Analytics

Optimizing with confidence.

Massive disconnect between success and keyword positions.

Stratified sampling.
Dawn Anderson (@dawnieando)
Reduce the choice effect by controlling pagination.

Sorting caters best for first/best choice.

Low importance pages are passed up and not reviewed.

RFC 6596 (Google)
Rand Fishkin (@randfish)
Google is stealing all your stuff and not giving credit back to you.

RedFin is going public.

Segmenting search intent. They prioritize complex tasks.

Invest in content Google either can't show in SERPS or that builds your brand when they do.

Make your internal search + nav as good or better than Googles path.
There you have it!!! The information was rock solid and the presentations were pretty damn good too. If you haven't been to MozCon, you should definitely check it out.
Stay tuned for more conferences notes from other events and as always feel free to reach out to me on Twitter at @thewrightjason.